What is New Generation Learning?
Southern Cross Grammar follows a pedagogical model, New Generation Learning—a distinctive approach to school education that is built on the solid foundation of proven international research and leading educational thinking. This approach is timely for twenty-first-century students.
New Generation Learning is a modern approach to schooling. It brings together the best of proven traditional and innovative educational practice in a technology-rich but highly personalised environment.
New Generation Learning offers a futuristic vision, vibrant learning environments, outstanding teaching, learning and assessment processes and flexible arrangements. This pedagogical model is supported by a whole school Student-Centred Vision, derived from New Generation Learning. This vision helps guides student learning, along with their actions and behaviours as members of the Southern Cross Grammar community.
The Rationale Behind New Generation Learning
New Generation Learning Pedagogy at Southern Cross Grammar is teacher-facilitated professional action that is designed to ensure the optimum development and maturation of students in a dynamic and vibrant learning environment.
The Southern Cross Grammar Pedagogical Framework manifests four pedagogical principles that SCG believes to be most appropriate to the needs of SCG students:
Clinical
Passion
Thinking
Futures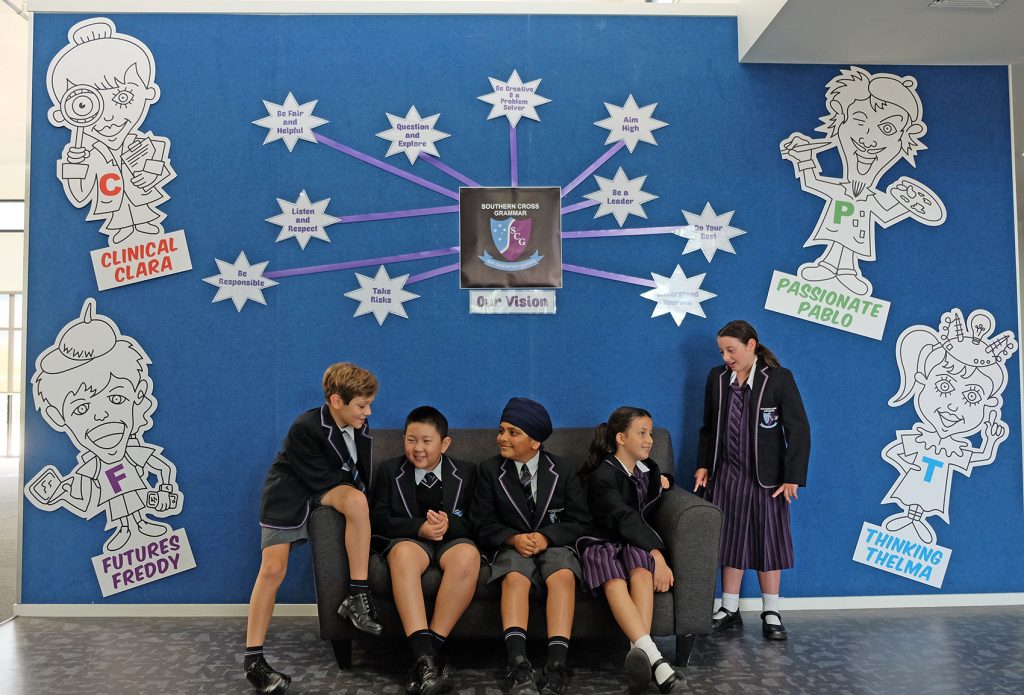 These four intersecting principles guide the work of teachers individually and collectively, and are the basis for all teaching and learning at SCG. The relationship between the four principles is represented in the diagram below. It reflects areas of commonality across the principles, and at their intersection is the SCG graduate: a discerning, thinking, global citizen, who is profoundly empowered by deep insights regarding their aspirations, morals, ethics, values, talents and capabilities.
The 'Stars of NGL' characters—Clinical Clara, Passionate Pablo, Futures Freddy and Thinking Thelma—are used by students as visual cues, integrated into their daily classroom routines, to empower and stimulate their learning. These characters are introduced at Junior Primary years in order to build knowledge of the New Generation Learning model.