As a modern school formed in the 21st century, a hallmark of Southern Cross Grammar is the way we combine traditional teaching practice with modern facilities to maximise our students' learning. The recent upgrades to our campus buildings and facilities, have added capacity to students' learning as we prepare them for bright futures.
"In addition to the warm relationships we foster at Southern Cross Grammar between staff and students, we also share a commitment to providing the very best spaces and resources to support high performance across our school." --Principal, Matt Dodd.
STEM is an integral part of learning at Southern Cross Grammar, with a Select Entry Program offered to Years 7 and 8 students. Our two laboratories in the Middle School Building were recently expanded and updated to become start-of-the art spaces fit for Senior Biology and Senior Chemistry. With upstairs classrooms also transformed into a permanent Middle Years STEM room. Additional upgrades to our facilities also included audio-visual and multimedia resources, interactive projectors for staff and students to collaborate and save their work, and flexible furniture to cater to dynamic working and learning environments.
"The recent upgrades to the STEM learning spaces have increased our capacity to cater to students' passion for STEM and provided teachers and students with modern facilities to foster high performing learning environments," Rajnesh Ram, the Head of Science and STEM said. "The fitting of cutting-edge technologies and the dynamic nature of the learning spaces have also enhanced the quality of our pedagogical process. The new spaces are productive with students and staff collaborating, discussing STEM concepts and completing science experiments. The STEM team are excited to continue building the momentum in 2021 and beyond."
The expansions of our facilities positions our school for an exciting and significant future both now and into the future.
Flexible learning and teaching environments, and technology for learning extends beyond the updated STEM rooms; they feature throughout the upgrades around our campus including the updated Creative Arts spaces and in the new flexible tutorial learning space in the VCE Building. With interactive boards and an expansion of the classrooms the Creative Arts spaces are bursting with light and colour and have expanded students' ability to deepen their art practice and use the rooms during break times.
"The recent upgrades to the school campus gives Visual Communication Design and the Creative Arts the sophistication they deserve," Cynthia Drossinis, the Head of Creative Arts, said. "Students have a chance to lay out their folios, work collaboratively, utilise the electronic whiteboard for peer reviews and have the flexibility to come in and study at lunch and recess."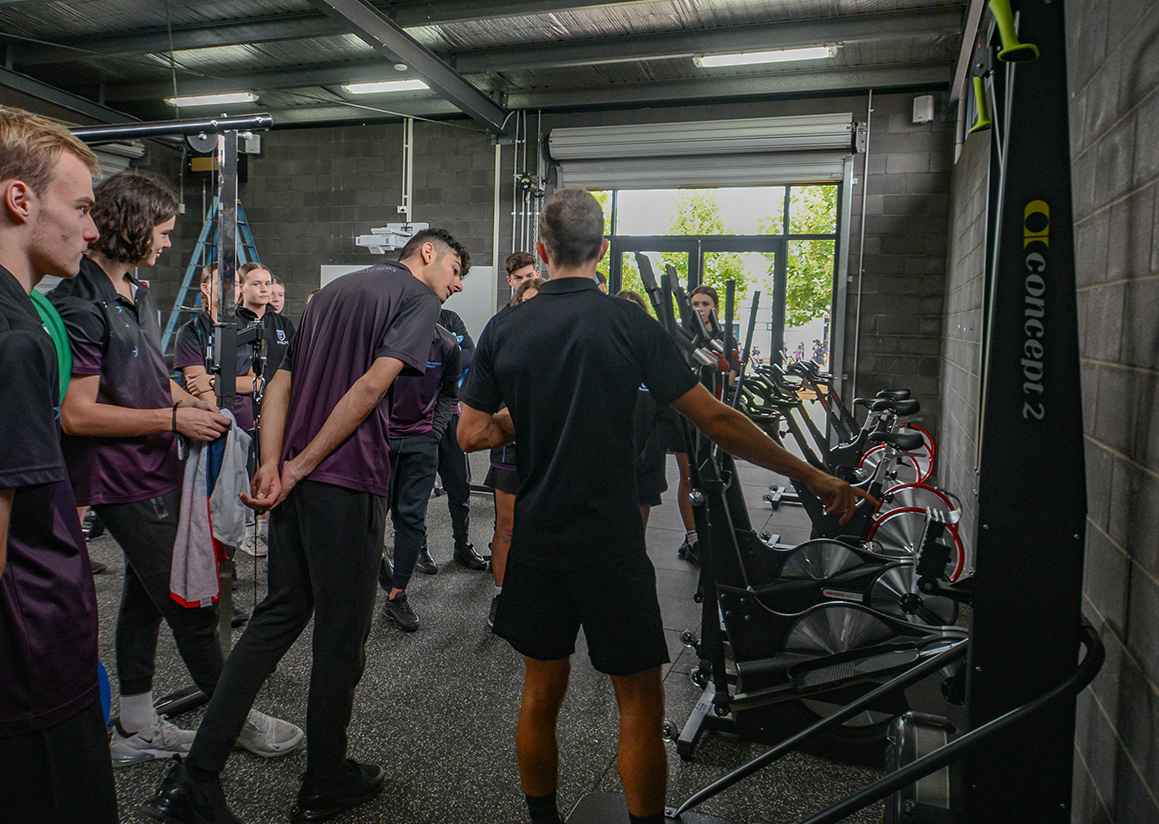 Our new Sport Science Centre highlights our commitment to students' Health and Physical Education and the many sophisticated and varied career pathways that await them. The 110m2 Centre combines fitness with technology and data to prepare students studying subjects such as VET Sports and Recreation for pathways such as Sports Science. Since it's opening, the Centre has been a hive of performance as students partnering their physical activities with science.
"The Sports Science Centre is an exciting addition to both Southern Cross Grammar and the Health and Physical Education program," Liam Ogden, Head of Health and Physical Education, said. "Not only does it provide an indoor space for the students to be physically active but also encompasses state of art equipment and electronic technology. The response has been overwhelmingly positive and students are eager to use this space both in and outside of class."
The upgrades and expansions of our facilities positions Southern Cross Grammar for an exciting and significant future.