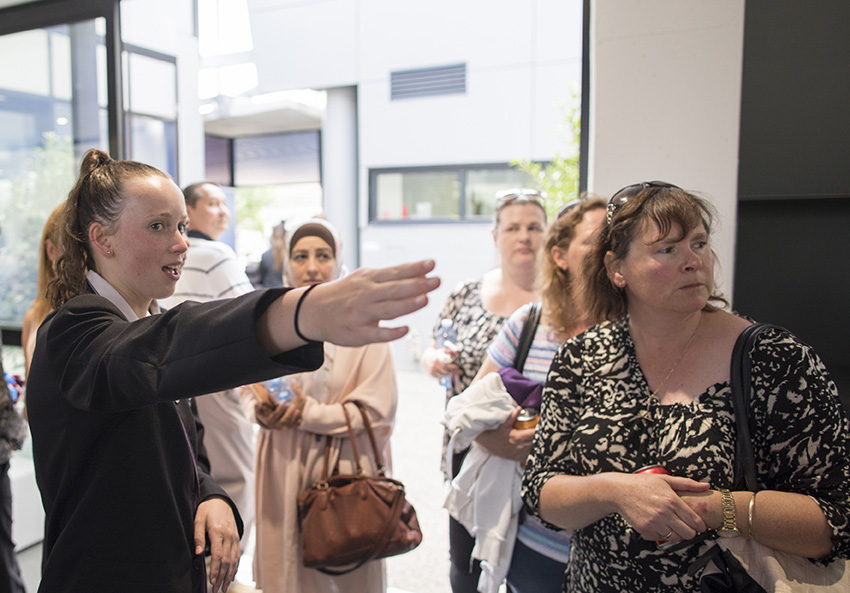 Bookings are essential. Please phone the School on (03) 8363 2000 to register. Individual tours may also be arranged at a time that suits you and your family subsequent to the Principal's availability.
School Tour Opportunities
Southern Cross Grammar warmly welcomes prospective families to visit and tour our School. All tours depart from our Junior School.
School Tours with the Principal, Andrew Ponsford, are held most Tuesday and Thursday mornings at 9:00am during the school term. Tours of the Junior School (F-4) are on Thursdays, and tours of the Middle School (5-9) and Senior School (10-12) are on Tuesdays.
Where possible, twice a term on a monthly basis, a Tour Opportunity is conducted on a Saturday morning. Please find advance information below:
| | |
| --- | --- |
| Tuesday 11 February 9:00–10:00am | Middle and Senior School Tour |
| Thursday 13 February 9:00–10:00am |  Junior School Tour |
| Tuesday 18 February 9:00–10:00am |  Middle and Senior School Tour |
| Thursday 20 February 9:00–10:00am |  Junior School Tour |
| Saturday 22 February 9:30–11:00am | Whole School Tour |
| Tuesday 25 February 9:00–10:00am | Middle and Senior School Tour |
| Thursday 27 February 9:00–10:00am | Junior School Tour |
| Tuesday 3 March 9:00–10:00am | Middle and Senior School Tour |
| Thursday 5 March 9:00–10:00am | Junior School Tour |
| Tuesday 10 March 9:00–10:00am | Middle and Senior School Tour |
| Thursday 12 March 9:00–10:00am | Junior School Tour |
| Tuesday 17 March 9:00–10:00am | Middle and Senior School Tour |
| Thursday 19 March 9:00–10:00am | Junior School Tour |
| Saturday 21 March 9:30–11:00am | Whole School Tour |
| | |
| --- | --- |
| Tuesday 28 April 9:00–10:00am |  Middle and Senior School Tour |
| Thursday 30 April 9:00–10:00am |  Junior School Tour |
|  Tuesday 5 May 9:00–10:00am |  Middle and Senior School Tour |
| Thursday 7 May 9:00–10:00am |  Junior School Tour |
| Tuesday 12 May 9:00–10:00am | Middle and Senior School Tour |
| Thursday 14 May 9:00–10:00am | Junior School Tour |
| Saturday 16 May 9:30–11:00am | Whole School Tour |
| Tuesday 19 May 9:00–10:00am | Middle and Senior School Tour |
| Thursday 21 May 9:00–10:00am | Junior School Tour |
| Tuesday 26 May 9:00–10:00am | Middle and Senior School Tour |
| Thursday 28 May 9:00–10:00am | Junior School Tour |
| Tuesday 2 June 9:00–10:00am | Middle and Senior School Tour |
| Thursday 4 June 9:00–10:00am | Junior School Tour |
| Tuesday 9 June 9:00–10:00am | Junior School Tour |
| Thursday 11 June 9:00–10:00am | Middle and Senior School Tour |
| Saturday 13 June 9:30–11:00am | Whole School Tour |
| Tuesday 16 June 9:00–10:00am | Junior School Tour |
| Thursday 18 June 9:00–10:00am | Middle and Senior School Tour |
| | |
| --- | --- |
| Tuesday 21 July 9:00–10:00am | Middle and Senior School Tour |
| Thursday 23 July 9:00–10:00am | Junior School Tour |
| Saturday 25 July 9:30–11:00am | Whole School Tour |
| Tuesday 28 July 9:00–10:00am | Middle and Senior School Tour |
| Thursday 30 July 9:00–10:00am | Junior School Tour |
| Tuesday 4 August 9:00–10:00am | Middle and Senior School Tour |
| Thursday 6 August 9:00–10:00am | Junior School Tour |
| Tuesday 11 August 9:00–10:00am | Middle and Senior School Tour |
| Thursday 13 August 9:00–10:00am | Junior School Tour |
| Saturday 15 August 9:30–11:00am | Whole School Tour |
| Tuesday 18 August 9:00–10:00am | Middle and Senior School Tour |
| Thursday 20 August 9:00–10:00am | Junior School Tour |
| Tuesday 25 August 9:00–10:00am | Middle and Senior School Tour |
| Thursday 27 August 9:00–10:00am | Junior School Tour |
| Tuesday 1 September 9:00–10:00am | Middle and Senior School Tour |
| Thursday 3 September 9:00–10:00am | Junior School Tour |
| Saturday 5 September 9:30–11:00am | Whole School Tour |
| | |
| --- | --- |
| Tuesday 13 October 9:00–10:00am | Middle and Senior School Tour |
| Thursday 15 October 9:00–10:00am | Junior School Tour |
| Saturday 17 October 9:30–11:00am | Whole School Tour |
| Tuesday 20 October 9:00–10:00am | Middle and Senior School Tour |
| Thursday 22 October 9:00–10:00am | Junior School Tour |
| Tuesday 27 October 9:00–10:00am | Middle and Senior School Tour |
| Thursday 29 October 9:00–10:00am | Junior School Tour |
| Tuesday 10 November 9:00–10:00am | Middle and Senior School Tour |
| Thursday 12 November 9:00–10:00am | Junior School Tour |
| Saturday 14 November 9:30–11:00am | Whole School Tour |
| Tuesday 17 November 9:00–10:00am | Middle and Senior School Tour |
| Thursday 19 November 9:00–10:00am | Junior School Tour |
| Tuesday 24 November 9:00–10:00am | Middle and Senior School Tour |
| Thursday 26 November 9:00–10:00am | Junior School Tour |