At Southern Cross Grammar, we seek to walk alongside our students and empower them to succeed in their final years of schooling. Our Senior School students (Years 10–12) are contemporary thinkers, emerging leaders and engaged global citizens.
Situated in our VCE Centre, our students work, learn and grow in a space that encourages personal and academic success. At Southern Cross Grammar, we offer an extensive range of subjects to students. We cater to their personal needs, interests and passions, and assist students with aligning their choices to tertiary study and future career aspirations.
We also offer a contemporary careers program, with a focus on developing students' skills, characteristics and qualities in preparation for their future outside the school environment.
As a growing school community, we aspire to strong and confident academic results.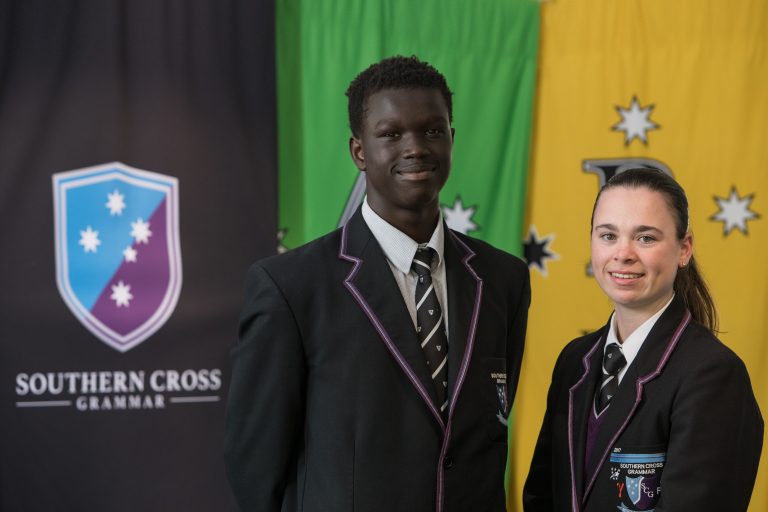 Our first cohort of Year 12 students graduated in 2018 with great success in their 2018 VCE exams.
71% of our 2019 cohort achieved an ATAR above 70, putting them in the top 30% of the state.
Our Student-Centred Vision has enabled us to create a culture where students are inspired and encouraged to achieve their personal best. With a strong focus on independence and personal responsibility, our Senior School students are actively involved in leadership of the student body.
Our Homeroom program encourages Senior School students to understand the need for balance; this includes their involvement in extracurricular activities.
Continuous improvement occurs when sustained effort, purpose, knowledge and action are combined, with a focus on achieving goals and the path we take to achieve them. The goal may be the end point, but the path is paved smoothly when relationships built on trust are developed, and there is a commitment to collaborating and upholding standards.